Polar Barge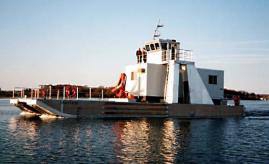 Polar Barge




Standard Configuration

Max speed
10.6 knots
Cruise Speed
10 knots
L.O.A.
65'
L.W.L.
62'
B.O.A.
24'
Draft
2'
Weight
38.2 MT
Fuel Cap.
400 gal
Engines
Twin Volvo TAMD4111
Generator
Northern Lights 30kW
The cost-effective answer for multi-task marine contractors.
Costing far less than conventional construction, the modular vessel can be disassembled for shipping, fitting on two trucks with total load width of only 8'6".
The barge can be built up to 80 feet long by 32 feet wide, and the vessel can be configured as a car ferry. a buoy-tender, or for general purpose haulage.
Adding a portable accommodation unit or office/lab prepares the vessel for multiple missions.
Propulsion can be gas or diesel with shafts or stern drives, waterjets, or even outboards mounted on brackets.
The vessel can be rigged with a bow ramp, knuckle-boom crane or I-beam for loading and unloading heavy equipment.
The main deck panels are removable. allowing access through the deck for recovery operations.
Standard Features
1/4" plating on hulls
Full length grounding barldoubler plates
Four additional grounding bars per hull
Eight watertight compartments
Can be completely disassembled, with maximum load width of 8'6"
Moveable on two transports
Removable deck panels
Twin Swim Platforms
Raised wheelhouse with 360 degree vision
Fuel tankage
Eight 12-inch cleats
Fore and aft two bins
Coast Guard approved navigation lights
Options
Bow & Stem Ramp
Knucklebooni crane
Full-length I-Beam Lift
Beam and Length to Customer Spec
Full handrails
Painting above and below waterline
Wheelhouse insulation
Removable accommodation or office/lab units
Propulsion options: I/O, OB, IB, jet
Generator
Electronics: Radar, GPS, VHF
Spot and Plod Lights
Fendering in wood, aluminum or rubber