Fire/Rescue 28 High Speed Fire and Rescue Boat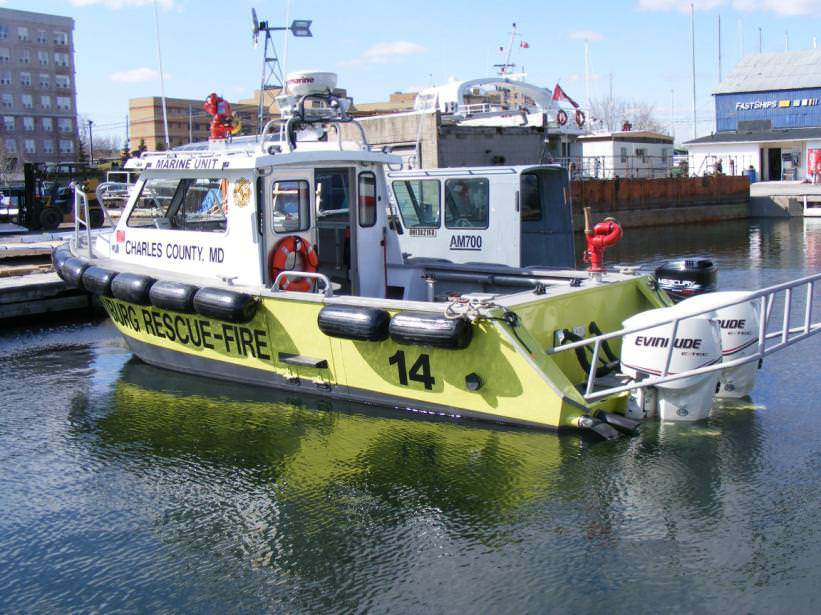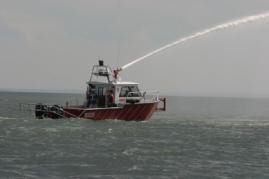 Fire/Rescue 28




Standard Configuration

Max speed
42 MPH
L.O.A.
28'3"
B.O.A.
11'3" to 11'6"
Draft
19"
Pumps
1250 GPM Darley /w 4.3L Mercruiser
Flow
max flow was 1563 gpm
Monitors
Elkhart Spit Fire
Engines
Twin Bombardier E-TEC Outboard 200 HP each
The Fire/Rescue 28 is a new generation of fire boat. It provides more speed, manoeuvrability, cargo capacity and pumping capacity than any other boat of its size.
This is the highest pumping 28-foot NFPA fireboat in North America. It is fitted with a Darley pump that produced flow meter results of 1563 GPM.
The unique MetalCraft Marine-designed sea chest has an intake that is three times the cross sectional area of the pump intake, and can be cleaned while underway.
The Main Monitor is mounted over the center of the boat, minimizing the reaction force and allowing the operator to control the boat while flowing a full stream. Operators are amazed at the boat's handling characteristics while flowing water from the main monitor.
Simplicity is the key to the fire system controls. It is based on a fire truck design and uses conventional fire truck parts for ease of maintenance and service. Fire/Rescue - 28 Delivering water and emergency response; in time, on target, every time, in any condition.
Base Boat comes complete with 1/4" bottom and 3/16" hull sides. The deck is laid, frames, longitudinals tied in. Hull plating is put on. Transom stiffened and welded on and engine bracket welded to hull to form the complete metal package. Comes with a MetalCraft Marine Standard 10 year hull warranty
Standards Meets NFPA 1925 pumping for Type 'V' • USCG CFR 46 • ABYC • ABSWS
Options include Superstructure and radar arch - T-top and double wide console • console location determined subject to LCG • overhead console • 30"-40" hinged divedoor which duplicates as a ladder when down • helm leaning post bolster seat • lifting eyes • MCM tow post • trailer bow eye • handholds console • safety handrails full perimeter • outboard guard • monitor flange and pump box • tow reel for 200' of 2" line • radar arch • seachest with strainer • 100g fuel tank • Console hatches in console • Survivors bench aft of helm seat.
Fire Fighting Systems Single Darley fire pump producing 1563 gallons/min. • Roof mounted, remote operated 1250 GPM monitor Elkhart 8394 • 2-1/2" valved NST capped discharges • All fire controls and gauges at dedicated console • 5" STORZ LDH Connection
Systems Bilge - two 2000 gph bilge pump with hose and antisyphon loop, kit to include aluminum bracket • a float switch with a high water alarm • Fuel-system to include hose and fittings for fill and vent with a racor antispill protection • Fuel filters to be mounted and an emergency fuel shut off valve • Steering - A "destroyer" padded helm unit with hydraulic helm pump mounted on console • Firefighting - Darley portable pump HE64rs with plumbed fuel lines • exhaust and piping for outlets • A valved Elkhart Sidewinder mounted on top of pump box • A gated "Y" - 2 1/2" to 2 X 1 1/2" fittings • all valves to be manual.
EMS Support Heated patient care area with primary patient care berth • Dedicated EMS equipment storage with A/C outlet for chargers • SCBA storage panel
Electrical System ABYC wire and cable throughout boat • Pennetrations • heat shrink • cable trays and labeling and schematic included • 1 A/C & 2 D/C panels • 4 batteries with boxes • Perko 3 way battery selector switches • 1 million CP Guest Beamer remote control spot light • 3 Red/white cabin stainless steel dome lights • 8 small white LED courtesy lights for interior • 4 halogen deck floods for deck lighting • navigation ligths • Grover stutter-tone eletric horn • powergate battery isolator • A/C outlet • 28" Whalen Mini Ultra Freedom Emergency Light • 4 Whalen 500 series emergency lights 2 at pushknee and 2 at transom • Shorepower service 1-30 amp at 120V with recepticle and chord • a Guest battery charger 2610 • windshield wiper and washer with spray kit and bottle • danforth cruiser Compass model A154 • Loudhailer Standard Horizon Matrix GX3000S • FLIR Navigator II mounted on T-top • Side Scan Hummingbird Model 981 • Furuno Navnet VX2 with radar • GPS • chartplotter and a 8.4" screen • a Standard Horizon Quest GX1500S radio with Shakespear antenna • install a supplied Fire Department radio and antenna • Whalen WPA2 with mounted speaker on T top • Piratecom Communication with 4 position intercom • EPIRB.
Other Features Crew and Helm seating • Non skid 18' side decks • Safety railings • Rubber sound matting • Painted interior • Flat or treadplate aluminum decking • Tinted side windows, clear windshields • 2 multi-speed wipers • 40,000 BTU cabin heater w/defrost • Push knees • Access to all piping and valves • Hose storage lockers • Outboard Guard • Additional Manual Monitor
Miscellaneous 3 Inspection visits • MCM quality control • testing with dock and seatrials • weighing of boat • preliminary acceptance • delivery • 2 days of training at Fire Departments facility • Design and design allocation.
Fit out International paint system - 3 coats epoxy primer and 2 coats urethane top coat • Antifoul as needed • Decks sandblasted for non-skid • Fire department decals and striping • Paint touch up kit • T-top to have 3 fixed windows • upholstry seat/bolster • 8 cast aluminum 10" cleats at perimeter with 3" D-rubber at divedoor and pushknee • Anchor package to include danforth anchor,fittings for stowage, 6' of 5/16" chain, 200' of 5/8" nylon line, anodes with aluminum brackets • Corrosion meter with gauge on console • 24" life ring with rope and bracket • Aluminum boat hooks with plastic hooks and handles • 2 dock lines at 25',5 at 20' black 5/8" rope • Trays for fire fighting hose under side gunwale • Various stowage locations for items - under front portion of console, both port and starboard sides of the console, transom • Stress mating shall be provided at the helm station and a 3" cushion for survivors bench with seat belts.