FireStorm 36 High-Speed Aluminum Fireboat

Standard Configuration

Max speed
39 kt fully loaded
L.O.A.
39'2"
B.O.A.
13'
Draft
22"
Discharges
2 monitors; 2 discharges; 1 LDH
Propulsion
Water-jet
More photos on Flickr
The MetalCraft Marine Firestorm 36 Mk II High-Speed Aluminum Fireboat represents a new generation in fireboat technology. It's the culmination of years of study and research into high volume pumping systems and their effects on a small boat's stability, controllability, dynamic loading and righting moments.
The Firestorm Mk II, this is a new versatile design in the vessel cabin's ergonomics. The raised cabin roof provides 6'7" headroom. The vessel has amazing visibility, overhead spotter windows provides 180 degree overhead visibility and 360 degree visibility horizontally.
The Mk II can be fitted with a Gilman or Wing foam fender/collar which allows for softer landings when coming alongside. It can also be fitted with conventional D rubber fender. The fender is completely isolated from the aluminum structure to prevent corrosion from the salt carbon crevice corrosion or electrolysis from dissimilar metal connections.
The hull bottom is either 5/16" or 1/4" depending on the customer's specification, and 1/4" hull sides. Diagonal fender strakes are designed for ultimate protection of the horizontal D rubber fender from sheer loads as well as provide additional hull protection.
The boat has grounding protection at the bow and can also be fitted with an ice belt.
Systems design is where the Firestorm beats all competition. If all systems are designed correctly then OEM equipment have no failures and have the least down time. Whereas all jet boats operating in shallow waters suffer from water pump impeller failures, MetalCraft has it sorted out for minimum impeller replacement and possible engine failure from overheats.
The Firestorm delivers unusually high pump delivery numbers, well above rated flows. These are due to the unique MetalCraft Marine proprietary designed sea chests. These sea chests have an intake three times the cross sectional area of the main intake, NFPA requires 2 X cross sectional area. The sea chest can be inspected and cleaned while underway and provides a positive head to the pump, and with twin pump installations, total pump redundancy. So if one pump is out for service the boat is not out of commission.
The Firestorm monitor location is central and close to the center of buoyancy of the vessel. This permits the helmsman to pivot the streaming at any angle. The boat's head never blows off its course. Simplicity is the key to the fire system, and is based on fire truck system design for ease of maintenance. Every component of a MetalCraft Firestorm is accessible for service.
That coupled with our ten year hull warranty and superb MetalCraft service will provide you with the best possible boat you can buy.
CBRN Options
This fireboat can be equipped with Chemical, Biological, Radiological, and Nuclear (CBRN) options for advanced readiness. Click for more...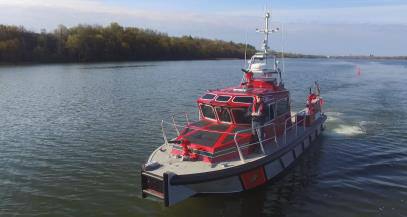 Firestorm 36 Mk II


Southern Marin Fire
Max speed
35 knots
L.O.A.
40'1"
B.O.A.
13'4"
Pumps
Darley 1250 GPM
Flow
1600 GPM
Engines
Twin Cummins 6.7@425HP
Jets
2 x Hamilton 292
Other
6'10" headroom, 6'6" in cuddy cabin, ISO 12215 hull structure, FLIR Cam, 900 Lb davit, Gilman Foam collar, 180 degree overhead visibility, 360 horizontal.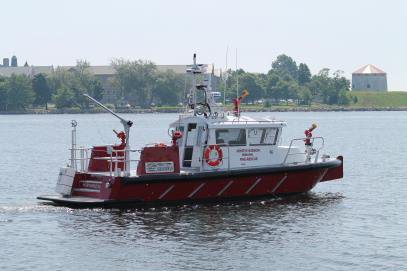 FireStorm 36


North Hudson Regional Fire Rescue
Max speed
38 Knots
L.O.A.
39'2"
B.O.A.
13'
Pumps
Twin Hale DSD Pumps
Flow
4700 GPM
Engines
(2) Cummins 6.7@480HP
Jets
(2) Hamilton 322
Other
6' 5" head room in cuddy; ABS Hull structure; FLIR Voyager III; 500 LB davit w electric winch; Ice belt; Water level recovery deck; CBRNE Pressurized cabin and AREAray CBRNE detection ; Gilman Foam Collar; Water Curtain for vessel protection; Furuno 3D Navigation system.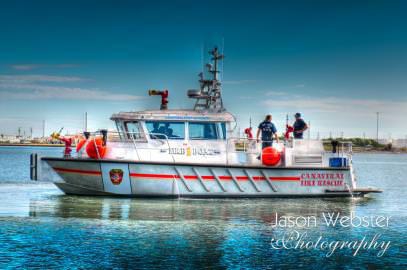 FireStorm 36


Canaveral Port Authority, FL
Max speed
37 Knots
L.O.A.
39' 2"
B.O.A.
13'
Horsepower
900 hp.
Pumps
Darley
Discharges
4 monitors
2 LDH
Flow
2,375 GPM
Engines
2 Iveco
Jets
2 Hamilton
Other
Glass bead finish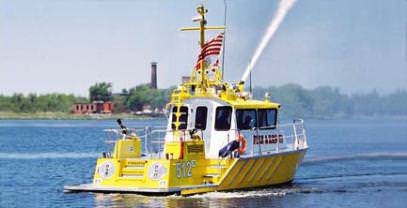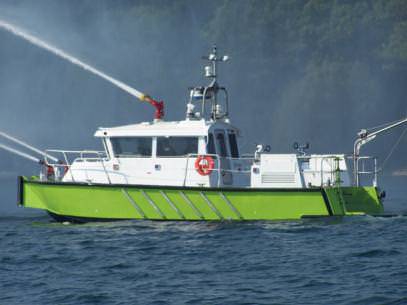 FireStorm 36


Miami-Dade County FL, Fire Rescue
Max speed
39.4 kt
L.O.A.
39'2"
B.O.A.
13'
NFPA
Class C*
Pumps
Darley twin 1750s
Flow
4871 GPM full flow
Monitors
3 electric
Engines
Twin Cummins, 8.3 L 540 HP
Jets
Hamilton 322
Foam
70 gallon foam tank
Other
X500XP thermal camera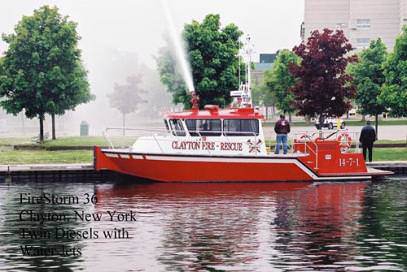 FireStorm 36


Clayton Fire Department, Clayton, NY
Max speed
42 MPH
L.O.A.
39'2"
B.O.A.
13'
NFPA
Class C*
Pumps
Darley 1500 GPM
Flow
2200 GPM full flow ( monitor and two hand lines)
Monitors
Elkhart 5378 Streammaster
Engines
Twin Cummins Diesel 430 HPQSM11 6CTA8.3
Jets
Hamilton 322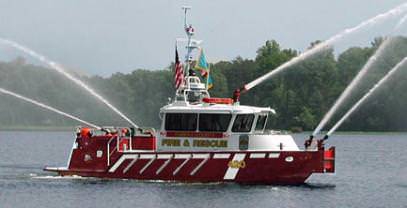 Fire Systems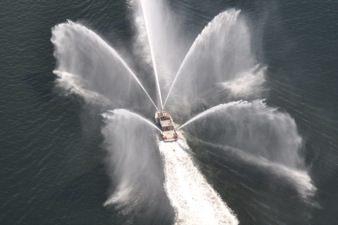 The FireStorm 36 can be fitted with twin or single fire pumps for redundancy or added firepower. Flow meter results from the FireStorm 36 were 2420 GPM from a single 1750 GPM Darley PSM pump.
High pump numbers are due to a unique MetalCraft Marine proprietary designed sea chest.
This sea chest has an intake as large as a firefighter himself. It can be inspected and cleaned while underway and provides a positive head to the pump. It provides a filtered water source to the pump while self draining with the boat on plane.
The monitor location is central for further range and is close to the center of buoyancy. This permits the helmsman to pivot the boat around a high thrust load at full stream while running a low engine rpm, not unlike a towboat.
Operators are amazed at the boat's control under full streaming at any angle. The boat's head never blows off its course.
Simplicity is the key to the FireStorm fire system. Its fire truck-based designs promote easy maintenance and reparability.
All FireStorm fireboats pack a huge punch for their size, and their shallow draft gets them into the smallest of marinas and very close to shore.
* Some exceptions to the NFPA 1925 apply, based on individual specifications.
Hull Shape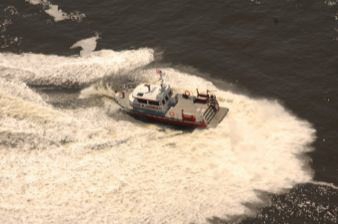 The Firestorm operates on the Kingston hull design platform. This proprietary design features a delta-pad center planing flat. This provides additional lift resulting a lower trim angle through the pre-planing transition zone, "the hump".
Fireboats are about 25% heavier than a conventional patrol boat because of firefighting equipment and rescue gear. This can cause the planning hull surface area to be marginal, or even too low in the water, to plane at all. A heavy boat with a small water plane causes exaggerated high bow planning angles, and heavier loads on engines reducing their longevity.
MetalCraft Marine's high-efficiency hulls offset the FireStorm's high gear-loads, providing additional speed and better fuel economy. MetalCraft Marine FireStorm fireboats give you speed and performance without compromising the equipment list.
Rescue Systems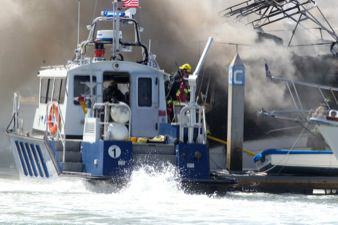 The FireStorm-36 and 40 are NFPA Class 'C' fireboats but can meet NFPA Class 'B' pumping requirements and pumps more than 25% in excess of its pump rating. Items like the wrap around recovery deck, track system safety harness (patent pending), internal foam tanks and forward push knees are only some of the design features specific to the FireStorm rescue system.
While arriving on-scene faster than most large vessels, FireStorms offers a wide range of specialized rescue features for first or only response.
These systems were designed with the input and insight from the O.W.L. Fire Department Boat Team of Fire Fighters. MetalCraft Marine would like to thank these men for their contributions and their affect on the future of fireboat design.