Firestorm 50 High-Speed Aluminum Fireboat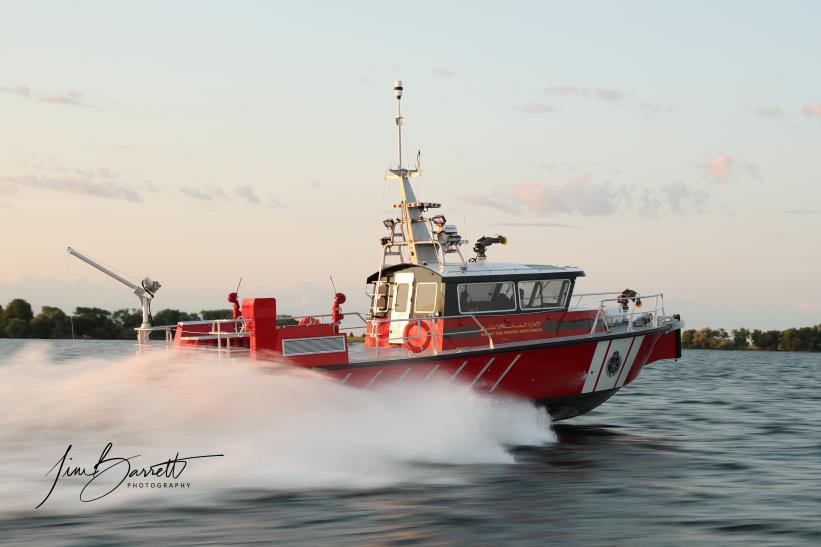 The FireStorm 50 High-Speed Aluminum Fireboat is a new generation in fireboat technology. It is a culmination of years of study and research into high volume pumping systems and their effects on a small boat's stability, controllability, dynamic loading and righting moments.
Standard Configuration

Max speed
44 kt fully loaded
L.O.A.
50'5"
B.O.A.
15'10"
Draft
25"
Discharges
3 monitors; 2 discharges; 2 LDH
Propulsion
Water-jet
Generator
Single diesel
More photos on Flickr
The FireStorm 50 provides more speed, maneuverability & pumping capacity than any other high speed fireboat in the market today. It is fitted with twin Hale pumps that produced flow meter results of 6665 GPM @ 150 PSI, 7000 GPM @ full stream, from two 3000 GPM Hale pumps. The pumps are situated low in the engine room and are, therefore, self-priming.
High pump numbers are due to the unique MetalCraft Marine proprietary designed sea chests. These sea chests have an intake three times the cross sectional area of the main, can be inspected and cleaned while underway and provides a positive head to the pump, as well as pump redundancy.
The monitor location is central and close to the center of buoyancy of the vessel. This permits the helmsman to pivot the streaming at any angle. The boat's head never blows off its course. Simplicity is the key to the fire system, and is based on fire truck system design for ease of maintenance.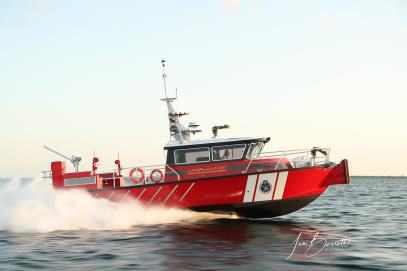 FireStorm 50


Kuwait Fire Services Directorate
Max speed
44.5 Knots
L.O.A.
50
B.O.A.
15' 10"
Draft
25"
Horsepower
2 x 1000 hp.
Pumps
Darley 2 X 3000
Discharges
Elkhart brass 2 X 2500 GPM
Elkhart brass 2 X 1250 GPM
Flow
7,500 GPM
Engines
Twin Volvo D 13
Jets
Marine Jet Power, 310X
Other
Twin 27K BTU Dometic Cruise Stowaway Turbo Air HVAC units.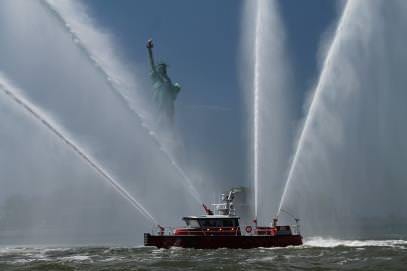 FireStorm 50


Alexandria VA Fire Department
Max speed
44 Knots
L.O.A.
50
B.O.A.
15' 10"
Weight
45000 lbs
Horsepower
1830 hp.
Pumps
2 Hale 3500
Discharges
four monitors
Four 5" Stortz
Flow
7,400 GPM
Engines
Two CAT C-18@915hp
Jets
Two Rolls Royce FF 37
Other
6'5" head room in galley birth area; Exceeds ABS structure; 100 g Fire Fighting Foam; Water level recovery deck; Patient care berth; 13.5 kW gensets; Heated front windshields; Galley includes fridge with freezer, microwave; Head with sink; Breathable air and patient Oxygen; Air conditioned throughout; Hull Strakes; Pushknee; Lifting eyes; Electric tinting overhead windows; Vector joystick controls; Aft helm; Furuno electronics; FLIR camera.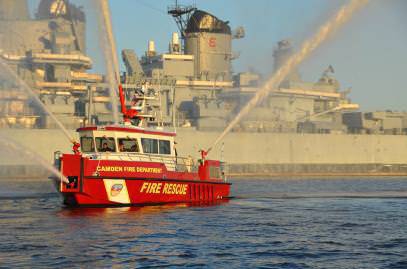 FireStorm 50


Camden Fire Department
Max speed
44 Knots
L.O.A.
50' 5"
B.O.A.
16' 8"
Weight
52000 lbs
Horsepower
2250 hp.
Pumps
3 Hale
Discharges
five monitors
2 LDH
Flow
11,000 GPM
Engines
3 Iveco
Jets
Triple Hamilton 364 jets
Other
CBRNE
Command & Control platform capabilities
Ice belt
FLIR thermal imaging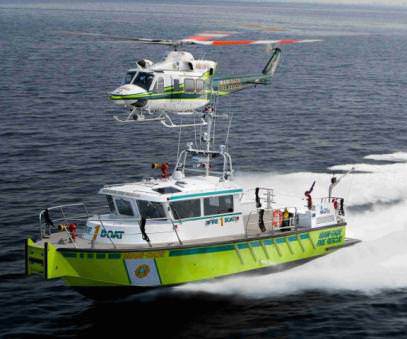 FireStorm 50


Miami-Dade County, FL
Max speed
38 Knots fully loaded
L.O.A.
50' flush deck
B.O.A.
15' 10"
Draft
25"
Pumps
2 @ 3000 GPM Hale
Flow
6665 GPM
Monitors
2x Elkhart 8394 remote and manual
Engines
Twin Cat C18, 885 HP each
Jets
Twin Hamilton 364
CBRN Options
This fireboat can be equipped with Chemical, Biological, Radiological, and Nuclear (CBRN) options for advanced readiness. Click for more...
Fire Systems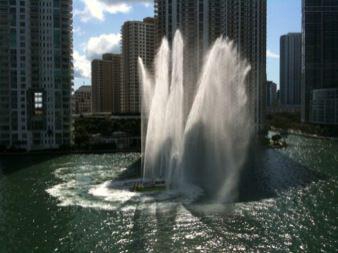 High pump numbers are due to a unique MetalCraft Marine proprietary designed sea chest.
This sea chest has an intake as large as a firefighter himself. It can be inspected and cleaned while underway and provides a positive head to the pump. It provides a filtered water source to the pump while self draining with the boat on plane.
The monitor location is central for further range and is close to the center of buoyancy. This permits the helmsman to pivot the boat around a high thrust load at full stream while running a low engine rpm, not unlike a towboat.
Operators are amazed at the boat's control under full streaming at any angle. The boat's head never blows off its course.
Simplicity is the key to the FireStorm fire system. Its fire truck-based designs promote easy maintenance and reparability.
All FireStorm fireboats pack a huge punch for their size, and their shallow draft gets them into the smallest of marinas and very close to shore.
* Some exceptions to the NFPA 1925 apply, based on individual specifications.
Hull Shape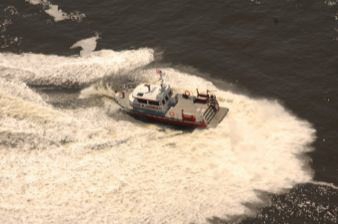 The Firestorm operates on the Kingston hull design platform. This proprietary design features a delta-pad center planing flat. This provides additional lift resulting a lower trim angle through the pre-planing transition zone, "the hump".
Fireboats are about 25% heavier than a conventional patrol boat because of firefighting equipment and rescue gear. This can cause the planning hull surface area to be marginal, or even too low in the water, to plane at all. A heavy boat with a small water plane causes exaggerated high bow planning angles, and heavier loads on engines reducing their longevity.
MetalCraft Marine's high-efficiency hulls offset the FireStorm's high gear-loads, providing additional speed and better fuel economy. MetalCraft Marine FireStorm fireboats give you speed and performance without compromising the equipment list.
Rescue Systems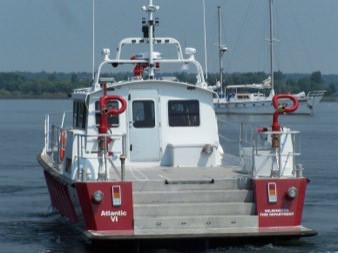 While arriving on-scene faster than most large vessels, FireStorms offers a wide range of specialized rescue features for first or only response.
There are many options to rescue systems offered by MetalCraft Marine, the ones chosen by the Miami-Dade Fire/Rescue are as follows;
starting at the bow, she had a crumple zone push knee box, that provides additional flotation and lift for those very large seas, the push knees have heavy duty extruded rubber fenders, with a built in bow ladder to provide access to and from the boat when beaching.
She has a gas sprung opening front windshield with roller and safety guides for bringing a stokes basket into the cabin via the front windshield. This helps greatly if running short crew, or the boat is rolling too heavily in rough seas.
Hinged main patient berth allows two medics to maintain the patient. Piped oxygen is piped to four patient berths, three in the forecabin and the main.
Main berths have retractable seatbelt restraints to hold patient in.
The boat has climate controlled HVAC to maintain temperature.
There are two outside backboard locations aboard the airvent seat boxes.
The wide aft recovery deck, is low to the water to aid divers and survivors to climb aboard, there are also rescue handrails around the perimeter of the deck.
The wide aft deck steps, permit the crew to keep heart or hypothermic patients to be kept level while moving them into the cabin.
Details
The FS-50 is a Class 'B' fireboat but meets Class 'A' pumping and flotation requirements. Under the new NFPA 1925 Rev, 2008, the 50 should be classed as a Type 3 fireboat.
Fire Fighting Systems
Roof mounted, remote operated 2000 GPM monitor, Elkhart 8394
Bow mounted manual 2000 GPM monitor, Elkhart 8394
LDH 5" Storz connection for supply to land units
2x3" or 21/2" capped discharges
All fire controls and gauges at dedicated console
EMS Support
Heated and Air Conditioned patient care area with primary patient care berth and two secondary care berths
Dedicated EMS equipment storage with A/C outlets for battery chargers
SCBA storage panel and dive tank storage racks, breathable air.
Electrical System
Shorepower 2x 30 amp
DIC (12V) Breakers - 16
A/C (110V) Breakers - 12
DIC Outlets - 3
A/C Outlets - 3
6.5 Kw Onan genset
Corrosion Meter
Cabin, Scene & Spot Lights
NAV & RIM lights
Battery charger
Electronics
2 VHF, Radar integrated w/GPS
GPS, chartplotter w/depth sounder
Compass
Loudhailer/Fog horn
Siren
Emergency lights
Many available options - FLIR etc.
Standards
Meets NFPA floatation for Class 'A' vessels
Meets NFPA pumping for Class 'B'
Meets OSHA Db rating
USCG CFR 46
USCG interior flame retardant rating
American Boating & Yachting Council
American Bureau of Shipping welding standards
Other Features
Chart Table
COMM Station
4x suspension crew seats
Non skid 24' side decks
Safety railings with harness brackets
Anchor Locker
Dive Platform rated for 25001bs.
Watertight emergency access hatches
5 watertight compartments
Rubber sound/stress matting
5"'D' rubber fendering
Fully finished interior
Head w/overboard & deck discharge
High security engine hatch locks
High security battery switches & start sequence
Flat or treadplate aluminum decking
5 gallon & 100(x2) gallon foam storage
Tinted side windows, clear windshields
Raked forward windshields to reduce glare and improve water clearing
2 speed wipers w/washers
40,000 BTU cabin heater w/defrost
Hinged mast w/double height radar arch
Watertight, integral to roof, electrical boxes w/terminal strip
Floatable dive/roof ladder
Push knee with D-rubber
Ice clearing roof design
Access to all piping and valves
All piping concealed
Desk hose storage locker
Stokes/background stowage
Aft steps for level patient care