High Speed Interceptor 12M Patrol Boat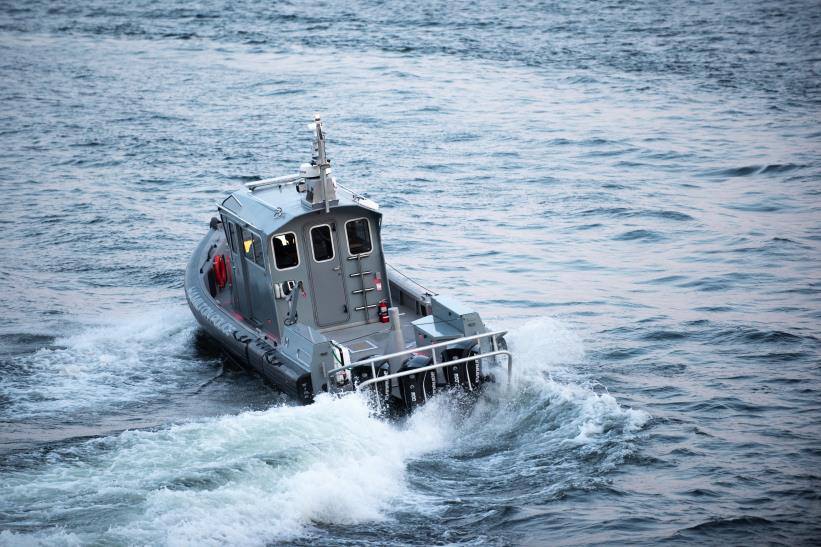 The 12M wide-body Interceptor is a multi-role, high-speed platform with major load carrying capacity.
She can have several days of autonomy. The large cabin can handle 6-8 upstairs and has a galley, head, and V-berth below deck.
The 12M Interceptor can have up to six gun positions.
Interceptor 12M video overview
We are grateful to the Hamilton Marine Unit, one of our newest customers, for this excellent overview of some notable features of the Interceptor 12M.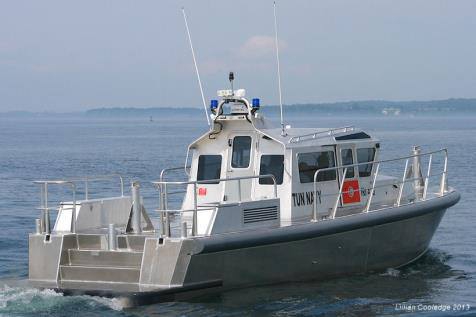 Interceptor 12M




Standard Configuration


Mission: Extended watch, command post, all-weather patrol
Max speed
40-45 Knots
L.O.A.
43'
B.O.A.
13'
Draft
28"
Weight
23,000 - 30,000 lbs
Fuel Cap.
400 USG
Engines
2 x Cummins QSB 6.7 480HP inboard diesel Engines
Jets
2 x Hamilton Jet HJ292
Complement
18
Seats
4+4, 8+8
Headroom
6'10" cabin, 6'6" cuddy
Ballistic Protection
Interior or exterior options
Gun Positions
up to 6
More photos on Flickr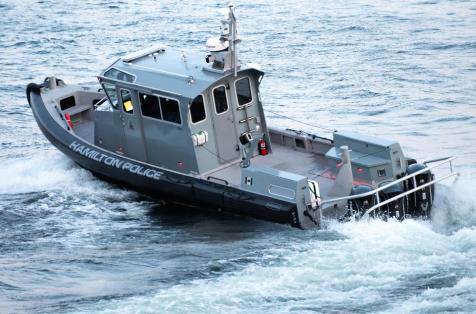 Interceptor 12M


Hamilton Police Service Marine Unit
Mission: Municipal policing, search and rescue
Max speed
49 Knots
L.O.A.
13.32m
B.O.A.
3.5m
Fuel Cap.
1136 litres
Engines
3 Mecrury 350 hp
Headroom
6'8" cabin, 6'1" cuddy
Options
T-top, cabin, outboards, inboard/outboard, jets, AC,
ballistic protection, CBRN
More photos on Flickr
Key Features
Extreme fine bow entry

The boat has an extremely fine bow entry that easily parts a wave or steep chop to protect the crew and reduce icing & spray. This translates into minimal vertical accelerations in steep chop or seas and reduces crew fatigue.

Variable Deadrise Hull

The Interceptor design is the only current design in production today with a variable deadrise hull which develops into a 22 degree monohedron aft deadrise. This feature allows the heavily laden 9M Special Forces Craft, with twin 400 HP Merc outboards to be able to trim up 16 degrees in a split second when faced by a large breaking wave in the dark. The USCG Long Range Interceptor designed with diesel waterjets with no trim control, can trim up with 9-10 degree bow trim.

Soft Dry Ride

This unique design provides an exceptionally SOFT DRY RIDE, this translates into a more comfortable less fatigued dry crew, not fighting off wet & cold. Crew fatigued by wet and cold and a hard ride are not operating in a safe zone of operation. The soft dry ride experienced by crews keeps body temps up and alertness and reaction times at the highest level.

Stability

Calculated and tested to ISO 12217 Cat B (8-17 foot waves) with initial stability that does NOT require the collar to be in the water with minimum crew on one side of the boat. This significantly increases collar life by many years. Most RIBs require the collar to be submersed to meet intact stability. Collars of this design suffer extreme degradation from salt water immersion and tearing from hull spray deflection at extreme speeds. Flotation collars are not cheap to replace.

Raised Collar Design

The raised collar design permits much greater banking and tighter turning radii at all speeds, as well as knocking down seas. The raised collar still lends itself for additional passenger seating and superlative fendering and shouldering maneuvers.

Gunwale Design

The hull/gunwale design allows the boat to be operable even if the collar were severely damaged or completely ripped off the boat. We have specifically designed the craft to be operable in this extreme condition.

Spray Reduction

So important from a driver comfort position, visibility, body temperature control, icing instability. The raised collar design of the Interceptor Patrol dramatically reduces spray and collar damage from water pressure in aft quarters at speed. The spray reduction is further dampened by the performance strakes as they move spray away from the boat and its crew.

Less Drag

The raised collar does not induce an additional drag coefficient from water attachment aft, found in low fitting collar designs that suffer from added hull resistance.

Low Pressure Zone

The aft hull buttocks are designed to provide low pressure zones to prevent forcing the bow down when entering a hard over turn and prevent any chance of hook.

Elongated Spoon Bow

The bow has an elongated spoon bow shape that combined with higher bow trim allows the boat to shoulder a ship at up to 26 knots in 3 foot seas as tested. This is a world record for shouldering a ship and should be done only by well trained personnel. The elongated bow shape also reduces acceleration loads as the bow enters the wave.

Performance Wing Strakes

Performance wings mounted Port & Stbd create faster acceleration and faster time to plane and higher speeds by added boat lift and significantly tighten turning radius. The performance wings are mounted below the chine so as not to conflict with trailer loading and cannot trip the vessel as some performance wings can.

Low dB Signature

The vessel has 5/16" bottom plating for quieter hull noise and low Db for crew, buffered by the extreme fine bow entry. The quieter hull allows for less detection as you come up behind a target.This also permits operation in higher ice thicknesses.

MIL Standards

The Interceptor is designed to US Navy & US Coast Guard MIL standards, including ISO 12217 stability Category B, (8-17' wave heights) and ISO 12215 structural standards. ISO 12215 design requires structure designed to withstand the Cat B wave height impacts at the maximum operational speed.

Higher Sea States

The unique hull design allows smaller craft to operate safely in higher sea states. The USCG chose the Interceptor design for the offshore 35' Cutter Boat Long Range Interceptor II and the offshore 23' Cutter Boat Large.

Level Deck

The cabin version has a single level cockpit/cabin deck. This prevents any trip hazard while entering or leaving the cabin. This is a very important feature when in a high sea state or an emergency situation when moving about with gear is critical and time sensitive.

Headroom

Lots of headroom, the cabin is designed for larger operators, it has an above normal (ABS) aisleway width and 6'10" headroom in the cabin and 5'11" headroom in the cuddy. There is an optional walkthrough cuddy door way to the foredeck, with either the inshore well deck version or the offshore closed in foredeck.

Bow Gate

There is an optional drop down foredeck gate with steps and ladder for accessing beach landings or for diving or retrieval off the bow. The bow ladder is set at a comfortable angle for divers exiting the water.

Dive Doors

Dive doors are located on both port and starboard sides of the cockpit. Dive doors lift out easily and have a lanyard locking pin system to hold them in place, pull the lanyard as you lift the door out. The door stores on the opposite door or on the lazarette. The door cutout is level with the deck giving the divers or rescue person the lowest point to water. The sockets for the 400 lb dive ladder is just below the deck with the underwater dive light below that to illuminate the ladder position in tepid waters.

Rapid Hinging Mast

The newly designed Rapid Hinging Mast (Patent Pending) can be lowered by one man without tools in 9 seconds and raised in 10 seconds. This is a breakthrough in hinged masts and designed to sea state 5-18' wave strength.

Multiple Cabin Designs

The Interceptor Patrol has multiple cabin designs to choose from, Walk Around Cabin, has full width cabin, ample width side decks with open forward well deck, Offshore Cabin, has decked in foredeck with wave break cuddy design, but still has a walk out cuddy door. Fast Attack Cabin, has an open or closed cabin and is adjustable with bolt on cabin sides and rear wall for winter conditions or summer for HVAC. Open roll up sides for good weather permit officers much easier access to other boats right from their seat.

Excellent Visibility

The Interceptor Patrol provides the best visibility you can get, beyond expectations, and exceeds all ABYC guidelines. The overhead spotter windows offer full 90 degree vertical visibility even with an overhead electronics locker. Side spotters are designed to provide a full range of visibility at the helmsman's eye level when in a hard over maneuver, banked at 45 degrees. Full glass side sliding doors provide unparalleled visibility when coming alongside a boat or dock or searching the water up close.

Side Sliding Doors That Work

The ergonomic design that went into the Interceptor Patrol made sure that sliding side doors allow the operator an easy time getting out and back into the boat. They are made for real ingress/egress not just large vent windows. Nothing better than cruising with your foot resting outside the door.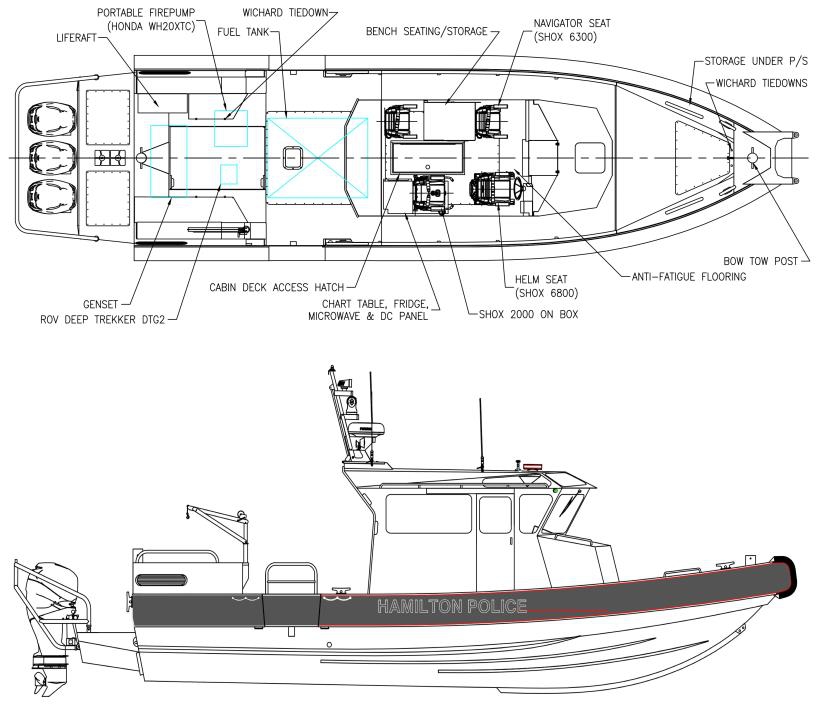 Other Key Features
Commercial off the shelf availability.
Multi-mission capable.
High speed 40-45 knots.
Cabin Designed for Equatorial and Arctic Conditions
360 Visibility
Multi-day Autonomy
Structure to ISO 12215 Category B or C
Stability to ISO 12217 Category B or C
12" D-shape foam collar for 9 knot impacts
High payload up to 22 passengers
Engine lifting eyes
Options
Oversize sliding side doors
All glass aft door
Ballistic protection built in or portable
Inboard diesel or outboard propulsion
Rapid Removable Reconfigurable seating options
Customer selected electronics
Hinged Rada arch
Centre console T-top options
T-Top Option
Narrow beam version 10' BOA