High Speed Aluminum Patrol Boats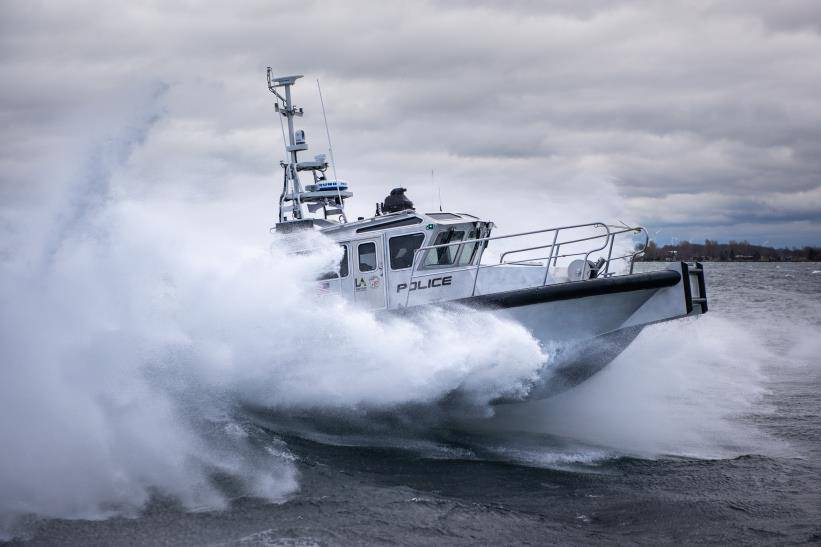 7M Interceptor Unmanned




Patrol


Mission: Patrol and surveillance
Max speed
36 Knots
L.O.A.
22'
B.O.A.
8'6"
Range
1800 NM
Engines
Volvo D3 at 220 HP
More photos on Flickr
Interceptor 9M




Patrol RIB, with Cabin

Max speed
45-55 Knots
L.O.A.
9.4M (30'8")
B.O.A.
2.3M (9'10")
Fuel Cap.
950L (250 USG)
Engines
2 x 300-400 HP
More photos on Flickr
Interceptor 9M




Patrol RIB


Mission: Special Forces Military RIB
Max speed
45-55 Knots
L.O.A.
30'8"
B.O.A.
9'10"
Fuel Cap.
1000L (264 USG)
Engines
O/B: 2x300-2x400 HP
I/B: 2x220-2x400 HP
Ballistic Protection
Portable Level III
Gun Positions
1-6
More photos on Flickr
Fire Interceptor 9M




Patrol/Rescue


Mission: Municipal policing, SAR, fire
Max speed
45-55 Knots
L.O.A.
9.4M (30'8")
B.O.A.
2.3M (9'10")
Fuel Cap.
950L (250 USG)
Engines
O/B: 2x300-2x400 HP
I/B: 2x220-2x400 HP
Cabin height
6'10"
Cuddy height
5'11"
Options
T-top or wheelhouse
Ballistic Protection
Portable Level III
Gun Positions
1-6
More photos on Flickr
Interceptor 10M




Standard Configuration

Max speed
45-55 Knots
Cruise Speed
38 Knots
L.O.A.
34'
B.O.A.
9' 10"
Draft
20"
Air Draft Mast Up
13' 6"
Air Draft Mast Down
9' 5" with AC unit
Weight
11,500Lbs
Capacity
12 people
Fuel Cap.
250 US Gallons
Engines
2 X 250 hp to 3 X 300 hp
Cabin height
6'10"
Cuddy height
5'11"
Cabin Options
T-Top or partial/full wheelhouse
Ballistic Protection
Portable Level III
Gun Positions
1-6
More photos on Flickr
Kingston 32 RIB




Standard Configuration

Max speed
40 Knots w/full fuel and 5 crew
L.O.A.
32'1"
L.W.L.
26'3"
B.O.A.
8'11"
Draft
22" Fuly loaded
Weight
10,100 lb (dry)
Fuel Cap.
200 US gallons
Range
210 Nautical Miles
Engines
Twin Cummins 6BTA5.9 @ 355 HP
Jets
Hamilton 274
Other
Dead Rise Aft: 24 Degrees
Interceptor 11M




Standard Configuration


Mission: Long range VBSS, high payload, riverine
Max speed
40-45 Knots
L.O.A.
39'
B.O.A.
11'5"
Draft
24"
Weight
22,000 lbs
Fuel Cap.
1075L (284 USG)
Engines
Diesel / Jet / Outboards
Jets
MJP 305
Complement
15
Seats
4-15
Headroom
6'10" or 6'4" cuddy
Ballistic Protection
Portable Level III
More photos on Flickr
Kingston 40 SAR




Canadian Coast Guard 40' SAR Cutter

Max speed
33 Knots (light; 3 x 200 hp)
Cruise Speed
25 Knots (light)
L.O.A.
40'
B.O.A.
15'3"
Draft
42"
Weight
19,000 lb
Fuel Cap.
300 gallons (std)
Interceptor 12M




Standard Configuration


Mission: Extended watch, command post, all-weather patrol
Max speed
40-45 Knots
L.O.A.
43'
B.O.A.
13'
Draft
28"
Weight
23,000 - 30,000 lbs
Fuel Cap.
400 USG
Engines
2 x Cummins QSB 6.7 480HP inboard diesel Engines
Jets
2 x Hamilton Jet HJ292
Complement
18
Seats
4+4, 8+8
Headroom
6'10" cabin, 6'6" cuddy
Ballistic Protection
Interior or exterior options
Gun Positions
up to 6
More photos on Flickr
Interceptor 12M


Hamilton Police Service Marine Unit
Mission: Municipal policing, search and rescue
Max speed
49 Knots
L.O.A.
13.32m
B.O.A.
3.5m
Fuel Cap.
1136 litres
Engines
3 Mecrury 350 hp
Headroom
6'8" cabin, 6'1" cuddy
Options
T-top, cabin, outboards, inboard/outboard, jets, AC,
ballistic protection, CBRN
More photos on Flickr
Interceptor 4344


Los Angeles Port Police
Max speed
37 Knots
Cruise Speed
32 Knots
L.O.A.
42'9"
B.O.A.
13'4"
Draft
24"
Capacity
26 people
Stability
ISO 12217 Category B
Structure
ISO 12215 Category B 13-17' waves
Fuel Cap.
400 US Gallons
Engines
Twin Cummins 6.7L @ 480 HP
Cabin height
6'10"
Cuddy height
6'6"
More photos on Flickr
Kingston 54/60




Panama Canal 54'/60' transport-optimized rapid deployment vessel

Max speed
41 Knots, 38 knots loaded
L.O.A.
54'/60'
B.O.A.
18'3"
Draft
2'6"
Weight
44,000 lb
Weight (Loaded)
57,000 lb
Capacity
42 men + 3 crew
Fuel Cap.
700 gal
Engines
T3x600 hp Cat Diesels
Jets
Hamilton 362
---
Our Patrol Boats can be powered with outdrive(s), outboard(s), inboard(s), or inboard jet(s).
Our vessels range from 22' to 54'. Each has a 10-year hull warranty, have excellent reliability and very good handling. Our boats track well, plane easily, have great wave-handling, and tight turning-radius.
The Kingston Series hull is a monohedron with a Delta Pad lifting plane designed for convertability to either jet or propellor propulsion.
Its center tapered bottom planing flat is mandatory for clean water flow to center mounted jet intakes for prevention of cavitation. It increases flow to a twin installation and has proven unmatched for a triple jet or I/O installation.