Fire/Rescue 29 High Speed Fire and Rescue Boat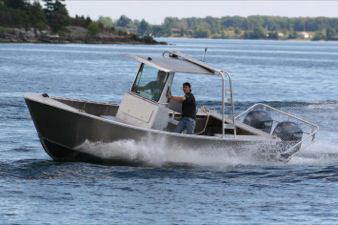 Fire/Rescue 29




Standard Configuration

Max speed
40-45 mph (loaded)
L.O.A.
29'
B.O.A.
8'6"
Draft
10"
Pumps
575 GPM Darley, 64 E Marinized
Flow
1260 GPM from main, 1600 GPM flow from two monitors
Monitors
Elkhart Copperhead
Engines
Twin Bombardier 150 HP O/Bd/s ea.
The Fire/Rescue-29 is the latest introduction for the MetalCraft Marine line of high speed fire/rescue boats.
The FR-29 concept is all about rapid response and lower crew demands, on a versatile trailerable Fire Rescue platform. Its twin 150 HP outboards power the boat to 40-45 MPH subject to loading and 45-50 MPH with twin 200's.
The FR-29 is fast responsive and safe with 5 X watertight compartments and level flotation provided by full perimeter 8" fenders equal to NFPA Class `A' fireboats.
Its dual port & starboard dive doors with integral ladders, vastly improve dive operations and can handle more divers with separate ingress/egress than other boats. The boat has a high metacentric height providing great stability for rescue or dive missions.
The twin 2-1/2" handlines can be wyed to provide an LDH landlline from the 575 pump arrangement or the optional 1500 GPM pump package comes with a 4 or 5" LDH Storz connection.
The aluminum 'T' top fully encloses to protect crew and can be used as an optional search tower, it also carries a full aft deck sun canopy.
Simplicity is the key to this boat with easy maintenance and repairability. The FR-29 comes with MetalCraft's standard 10 year hull warranty and is fireman tough.
This boat packs a huge punch for its small size and can be beached or get into the smallest of marinas. Ask a MetalCraft representative about our large list of options.
Fire Fighting Systems • Single Darley 575 GPM fire pump • A 1500 GPM pump package option avail • Elkhart Copperhead 1200 GPM monitor • 2x 2-1/2" capped discharges • Cleanable seachest access
EMS Support • Dedicated EMS equipment storage • Backboard or strokes bracket on 'T' top roof • Room for 4 backboarded patients
Electrical System • D/C (12V) Breakers - 8 • D/C Outlets - I • 3x 900 CCA batteries • Cross starting battery switchini • All round scene lighting • Navigation lights • Emergency lights • Windshield wiper • High security battery switches & start sequence
Electronics • Optional packages available
Standards • Meets NFPA 1925 pumping for Class 'C' • Meets NFPA Class 'A' floatation requirements • USCG CFR 46 • American Boating and Yachting Council • American Bureau of Shipping welding standards
Other Features • Compass • Hinged bolster main crew seat • Storage box backup crew seat • Full perimeter safety railings w/harness attachment • Anchor Locker • Dive platform/outboard bracket • 40" wide P&S dive doors w/integral ladders • 1/4" bottom w/grounding bar • 5 watertight compartments • Treadplate decking • 8" full perimeter protective fendering • Painted aluminum center console and 'T' top • Communications locker, lockable • Full width radar arch w/ladder sides • 2x console hatches • Helm footrest • Backboard or Storkes storage brackets • Fully enclosed canvas/eisenglass enclosure • Safety glass windshield & side windows • Raked forward windshields to reduce glare and improve water clearing • 2 speed self parking wiper • Aft deck sun canopy • Outboard guard • Welded 10" deck cleats • Forward pump locker • 80 gallon fuel tank w/Racor filters • Hydraulic steering • Epoxy/Polyurethane paint system to customer's paint scheme.